We have recovered millions of dollars for our injured clients. View some of our case results and see how we've been able to help our clients get fair compensation and justice for their injuries.
Serious Commercial Truck Accident
Brain Injury from Motorcycle Accident
Spinal Fracture from Vehicle Accident
Bucks County Car Accident Victim
Dram Shop Negligent Service
Pedestrian Struck by Transit Van
Spinal Fracture from Dog Knockdown
Serious Injury from Parking Lot Fall
Decades of Experience Advocating For Pennsylvania Brain Injury Victims
Brain injuries are catastrophic. They can be incredibly expensive and emotionally exhausting. When you've suffered a brain injury because someone else was careless, Cordisco & Saile LLC can help. For more than three decades, our brain injury attorneys in Pennsylvania have dedicated their careers to protecting the rights and futures of brain injury victims.
It's one of the reasons our Bucks County brain injury attorneys have received some of the top honors in the legal industry, including Brain Injury Top 25 by The National Trial Lawyers, National Association of Distinguished Counsel Top One Percent, Elite Lawyer, and Super Lawyers.
Insurance companies know our clients mean business when they turn to our brain injury attorneys in Lehigh Valley for help. Our reputation as savvy and successful trial attorneys helps accelerate negotiations and tip the odds of a victory in our client's favor.
Call our law office for help if you've suffered a traumatic brain injury in a Pennsylvania accident. We'll fight to make things right for you and your family.
Fighting to Change the Future For Victims of Child Sex Abuse
There's no excuse for sexually abusing a child. Too often, institutions entrusted with the care and safety of our children enable the abusers who prey on them. Cordisco & Saile LLC is a fierce and vocal advocate for victims of child sex abuse in Bucks County, Lehigh Valley, and across the Commonwealth of Pennsylvania.
Our child sex abuse attorneys fight for children and adults who have been molested, raped, and sexually abused in other ways by members of the clergy, teachers, coaches, and other authority figures in their lives.
Regardless of whether the abuser faces criminal charges for their heinous actions, our law firm fights to hold them and the institutions who enabled them responsible for the physical and psychological trauma they've inflicted on our clients. Let Cordisco & Saile LLC help you assert your rights and demand the accountability you deserve. We are always here to provide the compassionate care and support you deserve.
Tens of Millions Recovered For Pennsylvania Car Accident Victims
Insurance companies are notorious for working against the best interests of car accident victims. The car accident attorneys at Cordisco & Saile LLC are the difference-makers you'll need to get the top-dollar results you deserve after a wreck.
For over three decades, our award-winning Pennsylvania litigators have been top advocates for crash victims and grieving families across the Keystone State, including in Bucks County and Lehigh Valley. Our results in cases involving car accidents, truck accidents, motorcycle accidents, pedestrian accidents, and other auto accidents are unmatched.
Notable victories include a $2.47 million car accident settlement, a $1.377 car accident verdict, a $2.9 million motorcycle accident settlement, and a $10 million truck accident settlement.
We win millions for catastrophically injured crash victims like you. Call our car accident attorneys to discover how we can help you get your life back on track, too.
Notable victories include
 $1.377M
car accident verdict
 $2.47M
motorcycle accident settlement
The nationally recognized team of attorneys at Cordisco & Saile LLC fights to protect residents of Pennsylvania and New Jersey who have been injured in an accident or by the negligence of someone else. We work directly with insurance companies and 3rd parties on our client's behalf to make the process as easy as possible while we get you the best compensation for your case.
John F. Cordisco, co-founder of Cordisco & Saile LLC, is recognized locally and nationally for his expertise in personal injury law.
Michael L. Saile Jr., managing attorney of Cordisco & Saile LLC, focuses his practice on personal injury law in Pennsylvania and New Jersey.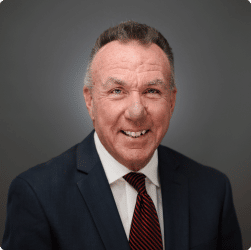 Mr. Bradway is certified as a specialist in the practice of workers' compensation law by the Pennsylvania Bar Association's Section on Workers' Compensation Law.
Steven J. DeBonis joined the firm in January 2020 after over four years of experience in the public sector. He brings a wealth of experience handling sensitive cases.
We have been practicing personal injury law for 30 years, representing clients who have sustained serious injuries in a broad range of accidents. Our legal services include injury and product liability cases from car accidents, truck accidents, bike accidents, motorcycle accidents, slip and falls, pedestrian accidents. dog bites, defective medications, defective products, workers compensation, nursing home neglect, and more.
At Cordisco & Saile LLC, our motto is "People Come First." We have a passion for doing what we need to do to help our clients put their lives back together. We will help them no matter how much effort it is going to take.
John Cordisco was in charge of my car accident case. He was not only professional and knowledgeable, but also understanding and caring. He helped me understand the legal process that was necessary for my case, so I could feel comfortable moving forward with it. Mr. Cordisco also make sure to accommodate any request I had and did so in a timely manner. Overall, Mr. Cordisco did a great job with my case and secured compensation for my accident.
Esther O.
I trust Cordisco & Saile completely. John Cordisco assisted my family through the loss of my brother a few years ago and when I needed advice on a medical matter, there was no question who I would call. Steve Debonis assisted me this last year and a half and went above and beyond to bring my issue to a complete resolution. I am humbled by his graciousness and support, the responsiveness of the entire team, and for going above and beyond without hesitation.
Lisa W.
Mike and Joann are great! They both worked so hard on my case and always made themselves available for any questions or concerns. They really cared not only about the case but also my well-being. Mike is an amazing lawyer. I hope I never have to go through something like this again, but, if I did, I would call him immediately.
Jennifer D.
Please fill out the quick contact form below for a fast and free case consultation. We will
contact you within 24 hours!